Handcrafted Hypotheticals that Spark Lively Conversations
Deep Dilemmas - "Would You Rather" Conversation Cards
Regular price
Sale price
$24.99 USD
Unit price
per
Sale
Sold out
200 debate cards to get to know friends and family like never before.
View full details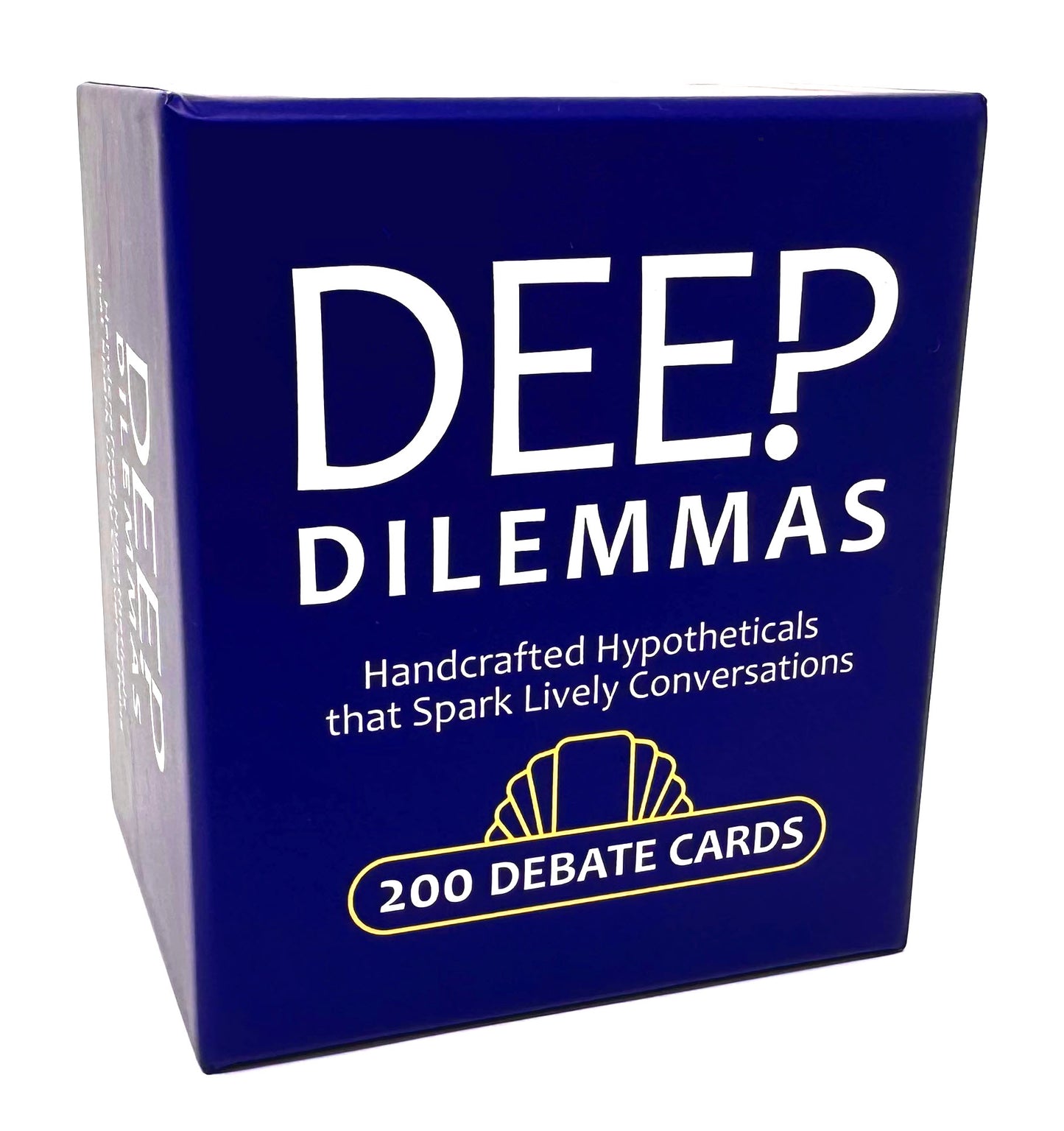 Designed to Entertain

These aren't your typical hypotheticals. Deep Dilemmas contrasts seemingly random scenarios together that take your mind to places it's never gone before.

Get to Know People Better

Get to know people in a whole new way as you laugh at, argue with, and analyze everyone's answers to these ridiculous questions.

Zero Setup

Life's too short to waste explaining how to play. No rules or instructions, just lively discussions!
Would you rather...
Win an olympic gold medal OR Have one get out of jail free card?

Only wear soaking wet socks OR Sneeze in every photo you're in?

Win $1 billion dollars OR Choose an age that you will stay at forever?

Have the song "Happy Birthday" stuck in your head for five years OR Perform a globally-televised comedy set with no preparation?

Have your home clean itself every day OR Travel back in time to tell yourself two words?

Genuinely promote an insane conspiracy theory on social media every day OR Lose $10 every time you laugh?

Be able to control the weather OR Get eight uninterrupted hours of sleep every night?

Have a confusing typo in every message you write OR Dramatically object at a close friend's wedding and profess your love for the bride or groom?
"Love this game -- played it after drinks with friends and it lead to a lot of lively debates and conversations about seemingly out there topics. Ultimately, I felt it helped us all get to know each other better. Lots of fun!" - Amazon Review

"Deep Dilemmas is HILARIOUS and thought provoking. Keep it on your coffee table and pull a card when you have people over - an hour later you will still be laughing and arguing (my favorite combo.)" - Amazon Review

"My husband and I love conversational games, so we bought this based on a friend's recommendation. It didn't disappoint. It's perfect for a game night with friends - a fun twist on would you rather." - Amazon Review

"I played this during my brothers birthday to test it out and what started as three people playing and giggling to themselves and debating answers quickly became essentially everyone in the room laughing and debating answers." - Amazon Review
Conversation Starters for Your Team
Get to know your team in a whole new way with our free Deep Dilemmas template. Perfect for virtual meetings!
Download